After twenty-five years in the broadcast industry, Chris Grum was looking for a change of pace. He had always wanted to own a business, but he could never find the right fit. Years of researching various franchises and business models never yielded a viable option. One day in August 2010, while at lunch with long-time friend Scott McAlister, both men came to the same conclusion: a travel agency. It made sense - Chris had been traveling all his life and frequently gave advice to friends and family planning trips. Why not turn that into a business?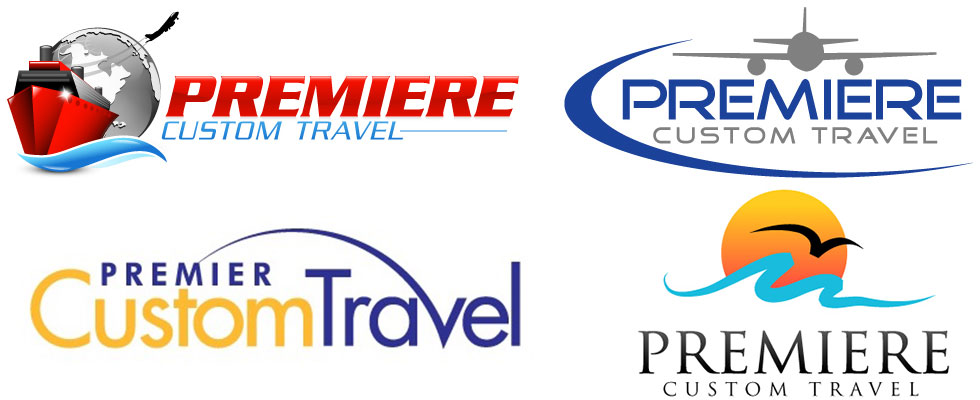 LOGO CONCEPTS - 2010
The rest of that fateful lunch was spent brainstorming names and other ideas for the company that would become Premier Custom Travel. Our initial business model was focused specifically on trips to New York City, although it quickly expanded to include cruises and Disney Destinations. The last quarter of 2010 saw the company's brand developed, including our first logo and website.
OUR ORIGINAL LOGO - 2010
Our grand opening was January 1, 2011 and our very first booking was a 7-night Caribbean cruise. Today, our cruise business alone has expanded to over 50 cruise lines, hundreds of ships, and thousands of reservations made. Ships account for approximately 70% of our booked vacations. Beyond the world's oceans and rivers, we also offer the various Disney Destinations, guided and independent trips to hundreds of cities worldwide, and the all-inclusive resorts of Sandals and Beaches.
SCREENSHOT OF OUR WEBSITE AT LAUNCH IN 2011
When you book with Premier Custom Travel, you're supporting a locally-owned, award-winning small business. You'll never pay more and you won't pay any fees. We are also active in our community, supporting local events, charities, and more. Our certified travel consultants are industry experts with accreditation from many of the top suppliers and organizations in the business.