Group Cruises
For parties of 15 or more (in most cases) we can create a special group cruise that not only features the full cruise a regular passenger enjoys but also special amenities both on and off the ship just for your organization. Group cruises are perfect for family and class reunions, church groups, civic organizations and clubs of all interests. Most cruise lines offer special group benefits on most of their itineraries.
Premier Custom Travel will design your group's cruise to fit your specific needs. Want to host a welcome aboard party for your guests? No problem. Interested in seminars at sea or other types of meetings? We can help you book the space. Are you a charity looking to bring in some extra money? A fundraising cruise is a great way to do it -- and we can help you maximize the amount raised with some special programs. Group cruises are also great for milestone celebrations such as anniversaries, birthdays, retirements, etc.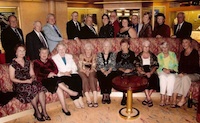 Whether you're looking for a short, last-minute weekend getaway on the water, a luxurious around-the-world voyage or something in-between, our cruise experts can help your group experience. We've connected with the world's best cruise lines, allowing you to choose from hundreds of amazing ships and itineraries. Visit our cruises page to learn more about these exciting companies.
Ready to set sail? Let your certified travel consultant help find the cruise line and itinerary that is perfect for your group. Contact us today for more information or to book your cruise.