It's one of the biggest days of your life...there is so much to plan...and the last thing you need to worry about is your travel arrangements. At Premier Custom Travel, we understand - and we're here to help.
JUMP TO: DESTINATION WEDDINGS | WEDDINGS AT SEA | HONEYMOONS | HONEYMOON REGISTRY


DESTINATION WEDDINGS

For destination weddings, we've partnered with the best in the business - Sandals & Beaches Resorts.
A Sandals WeddingMoon® marries the wedding and the honeymoon, so after you've exchanged your vows, you can begin your happily ever after. Romance abounds at the resorts made for love, and you'll find endless ways to enjoy your time together, from suites so exotic and romantic, we named them "Love Nests Dream Suites", to intimate dining beneath the moonlit sky, hand-in-hand strolls along the beach, and every land and water sport under the sun. Best of all, it's all included.
At Beaches, you can have the Caribbean wedding you've always dreamed of in the most romantic places on earth - from laid-back Jamaica to the pristine shores of Turks & Caicos - with Beaches' all-inclusive Caribbean wedding packages. The spirit of an exotic island wedding melds with the unparalled pleasures of an all-inclusive honeymoon to create the exclusive WeddingMoon®. Plus, have the luxury of hosting a multi-generational celebration with the ones you love. It's the perfect start to the perfect marriage where your honeymoon begins the moment you say "I do."
Whether just the two of you or traveling with family and friends, Sandals & Beaches Resorts have everything you need. Discover their free destination wedding offerings including a dedicated wedding planning team, honeymoon amenities, and more! Plus, you can "Test-Drive" your WeddingMoon® by visiting the resort ahead of time at a discounted rate. You can even get your wedding package for FREE with a minimum stay at the resort. Ask us for details.
Learn more about these incredible wedding destinations and packages by clicking the logos below:
We have the following specialists on staff:
WEDDINGS AT SEA
Many of our cruise line partners offer weddings at sea and in various ports around the world.
Most ships offer weddings before departure, allowing friends and family who may not be sailing with you to attend the ceremony. Couples may also opt to have a ceremony during the cruise either onboard the ship or in one of the ports. Best of all, after the wedding ends you're already on your honeymoon!
Most cruise lines offer dedicated wedding departments to help with every detail. Some ships even have an onboard wedding chapel! Packages can be customized to meet your specific needs and we can even set up group rates so your friends and family can sail with you.
MEET OUR CRUISE LINE PARTNERS
HONEYMOONS
Even if you're not planning a destination wedding, we can certainly help with the honeymoon. Whether you opt for a luxury cruise, an all-inclusive resort in the Caribbean or a tour of one or more international destinations, we're here to help you plan. We've even had couples honeymoon with Mickey & Minnie at the world-famous Disney Destinations and Theme Parks.
We can also help arrange bachelor & bachelorette parties, including group cruises and all-inclusive destinations.
HONEYMOON REGISTRY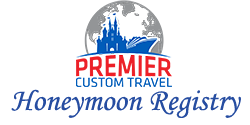 Planning a wedding can be time-consuming, but it can also be very expensive. Once you're done paying for the food, the floral and the decorations you start to wonder - is there any room left in your budget for the honeymoon? That's where the Premier Custom Travel Honeymoon Registry comes in. When you register with us, we help you determine the honeymoon you want and then set up a special page with your own unique link. You can share this link on your invitations and other wedding-related information, encouraging your guests and friends to give you the gift of travel for your wedding present. Their gift may be in any denomination of $20 or more. Your special page will show the remaining balance on your desired trip and allow your guests to make a payment towards that trip via cash, credit card or check. Once your honeymoon is fully paid, we will stop accepting payments and can even redirect your friends and family to your other registry if you like. And here's the best part: For our cruise customers, we'll keep accepting gifts even after the vacation is fully paid. You'll receive any extra funds as an onboard ship's credit, allowing you to purchase shore excursions and other items while on your cruise.
Unlike other "crowd-funding" sites, our registry is 100% free and has NO FEES, even for credit card purchases.
Request a free consultation with a certified travel consultant today to find out more about our wedding and honeymoon package options.
REQUEST A FREE CONSULTATION
IMPORTANT NOTE: Although Premier Custom Travel does not charge booking fees, a signed contract and/or non-refundable service fee may be required for some wedding packages. Please ask your certified travel consultant for details.